Science
Oncode was founded on the firmly held belief that innovations in oncology stem from discoveries in basic science, such as a better understanding of cancer cell biology, evolving cancer ecosystems, and cancer-tissue interactions. Within Oncode, more than 900 outstanding scientists from 61 research groups across the Netherlands, all specialized in the field of basic oncological research, are united through a shared mission and strategy. The Oncode ecosystem builds upon the excellent research ecosystems already present at our partner institutes, through which Oncode is able to connect to additional expertises, facilities and networks.

Oncode challenges its investigators to initiate 'high-risk, high-gain' research lines by providing them with substantial, near-unrestricted 'base' funding. Additionally, Oncode has set up advanced new technologies, infrastructures, and dedicated Oncode facilities to support high-quality research. It also facilitates training and mentoring activities.
900+
researchers at 12 Dutch institutes
8
collaborative facilities funded
78%
of publications in open access journals in 2021
6
publications in Cell, Nature and Science in 2021
€18.2M
research funding granted on the basis of base fund research in 2021
Top 50
ranking in Nature cancer research index
3
technology access pilot projects awarded in 2021
Oncode strives to create an environment in which Oncode researchers can reach their maximum innovation potential. To that end, we use our base fund to enable each of our investigators to pursue innovative research in uncharted areas of cancer biology.
Read more...
From fundamental science to the clinic
Oncode brings basic research and clinical practice closer together to enable the effective translation of promising research into novel clinical treatment strategies. To support this goal, Oncode created its Clinical Proof-of-Concept (CPoC) Programme, with an earmarked budget of €10M for pre-clinical and early clinical studies based on findings from Oncode research labs.
Read more...
Base funding 101: Oncode promotes the innovation potential of its research community by providing its investigators with base funds. Oncode base funds are near-unrestricted and are designed to promote innovative basic and pre-clinical research lines of high quality (high-risk/high-gain) research, or for OIs to apply their expertise in new research fields. Typically, these research lines are difficult to finance in the standard funding landscape due to a lack of preliminary data or an adequate track record and limited funding availability. Of equal importance, Oncode's base funds provide OIs with the financial capability and flexibility to accelerate research lines, change the scope of research programs, or quickly terminate non-successful projects. The impact of Oncode's base funds can be seen on multiple levels, of which three - publications, new funding opportunities, and the ability to venture into new research and collaborations - are highlighted below.

Publications: In 2021, OIs collectively published 443 unique publications, 6 of which were in the journals Nature, Cell or Science. Of these publications, 78% were Open Access publications and 15% were co-authored by at least one other OI. 2021 was a productive year, with great publications build on the research performed by our OIs in our partner institutions and while not all these publications can be attributed to Oncode's efforts, Oncode is now seeing the first publications for which the availability of Oncode base funding was vital. Several notable examples of key publications from the Oncode community are listed below.

Jin et al., Nature (2021). Study by the Bernards and Akkari groups showing meaningful clinical responses in patients with advanced hepatocellular carcinoma upon treatment with combination of lenvatinib plus gefitinib.
Bollen et al., Nature Genetics (2021). Study by the Snippert, Kops, Cuppen and Lens groups presenting the 3D Live-Seq protocol, which integrates live-cell imaging of tumour organoid outgrowth and whole-genome sequencing, enabling the reconstruction of evolving tumour cell karyotypes across consecutive cell generations.
Geijer et al., Nature Cell Biology (2021). Study by the Marteijn, W. Vermeulen and Bernards groups showing the role of ELOF1 in transcription-coupled nucleotide excision repair, thereby protecting the transcription machinery from DNA damage.
Van Neerven et al., Nature (2021). Study by the L. Vermeulen and JP Medema groups using organoid technology and the application of lithium, leading to the discovery of how the chance of polyps forming in the intestine, and thus the development of colorectal cancer, can be reduced.
Van de Haar et al., Nature Medicine (2021). Study by the Voest, Cuppen and Wessels groups demonstrating that there is limited evolution of the actionable genome of treated metastases, providing evidence that a single whole-genome sequencing analysis of a metastatic biopsy is generally sufficient to identify genomic biomarkers and identify investigational treatment opportunities.
Bas van Steensel (NKI): "The base funding of Oncode provides the flexibility that is essential for dynamic, creative, and high-risk research, which is not easily fundable in conventional grant schemes, unless major amounts of preliminary data are generated. Oncode makes it possible to conduct proof-of-principle studies and generate these preliminary data."

Miao Ping Chien (Erasmus MC): "We have applied FUNseq to profile invasively migrating gliobastoma cells and identified a key driving pathway. The project required a multidisciplinary team and with Oncode's funding I was able to gather a team with diverse backgrounds, including a multidisciplinary PhD student (the project lead) to conduct this project, because bioinformatics, molecular biology and biotechnology experience were needed."

Sarah Derks (Amsterdam UMC): "The innovative aspect of this project lies in studying Tumour Lysis Syndrome in gastric cancer and using digital spatial profiling as a methodology, which will provide us with an immune characterization with unprecedented detail. Because KWF did not want to fund the project without preliminary data, Oncode base funding allowed us to start the project."
New funding opportunities: Oncode's Base funds enable OIs to initiate new research lines and gather preliminary data on promising new findings. In 2020, Oncode had already noticed that 'base fund' research lines resulted in many successful national and international grant applications. This trend continued in 2021; our investigators have reported 18 awarded grant applications based on results obtained through using base funding, with a total budget of €18.2M (see appendix II). Additional grant applications are pending a decision. Notable grant applications include those by:


Peter ten Dijke (Leiden UMC) – ZonMw Open Competition grant, €750K
Jarno Drost (PMC) – NWO VIDI grant, €800K
Sylvie Noordermeer (Leiden UMC) – KWF, €750K
Michiel Vermeulen (Radboud University), Jop Kind (Hubrecht) – NWO-consortium grant, €3.5M
Linde Meyaard (UMC Utrecht) – industry grant €175K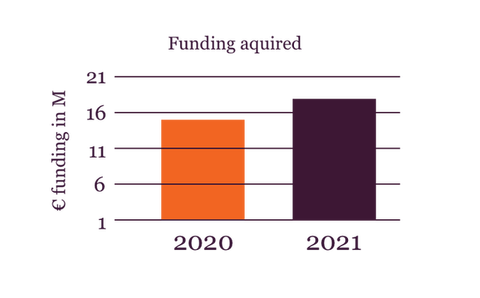 Jop Kind (Hubrecht Institute): "Our Oncode base fund allowed us to develop the method further to generate proof-of-concept. Based on these pilot experiments, we have now secured funding from a KNAW research fund (€250K) to further develop this project in collaboration with Jan Paul Medema."

Monique Den Boer (PMC): "We used the Oncode base fund to pioneer with these types of immunotherapeutic/niche studies, generating (pilot) data to gain expertise and show proof-of-concept for this innovative field of research. In 2021, additional funding has been secured (ODAS grant, €355K) for this research."

Wim Vermeulen (Erasmus MC): "Obtaining funding for C. elegans research is intrinsically challenging within the Dutch funding landscape. However, through base-fund enabled results we acquired two C. elegans-associated research grants (ENW ECHO grant, €274K and ENW, ALW-open grant, €295K)."
Recognition- Awards and Memberships: In addition to the publication of high-quality papers and grants, OIs receive (inter)national recognition through nominations for awards and invitations for membership of specific scientific communities. These awards and memberships reflect the quality and relevance of the recipient's research achievements. As in previous years, multiple OIs received (inter)national recognition in 2021. Notably, this was not limited to senior members of Oncode's research community. Junior group leaders and Postdoc researchers also received recognition in this way, examples of which can be found below:


Our facilities, world-class science
Infrastructure & Technology 101: Over the years, Oncode has invested almost €10M in research infrastructure via its Infrastructure and Technology (I&T) programme, providing the Oncode community and other scientists at our partner institutes with access to state-of-the-art technologies, infrastructures, and facilities. The programme has so far allowed Oncode to fund 10 infrastructure projects and set up 7 state-of-the-art research facilities for the Oncode and wider Dutch research community, thereby supporting broader access to key scientific capabilities that are more cost effective when shared. To ensure optimal exposure and usage of infrastructure and research facilities, Oncode frequently organizes technical masterclasses and workshops, and actively communicates about them through various communication channels. 
 
While Oncode did not make any new I&T investments in 2021, the programme remained active to promote Oncode's existing facilities, technologies, and infrastructure. It did so through various communication channels, meetings, and the Oncode website, and through the organization of 4 technical workshops to showcase the available expertise and technical capabilities of the various facilities. The workshops also provided an opportunity for hands-on support by technical experts for specific Oncode projects. The combination of high-end facilities and tailor-made masterclasses enables the Oncode community to optimally use the scientific and technical capabilities present in Oncode to answer scientific questions, often in collaboration with other Oncode groups that possess the required expertise (for example, the GPU infrastructure). Oncode's I&T facilities are also accessible to outside users, with several now being used by private organizations on a fee-for-service basis.
Hans Clevers (Hubrecht Institute): "We applied the Oncode drug repurposing library with over 5,600 compounds on different tumour organoid lines derived from HNSCC. […]. This allowed us to select 100 highly promising compounds that effectively reduced tumour cell numbers in at least two tumour lines, while leaving the non-malignant control line unaffected." 

Scenic Biotech: "Scenic Biotech has made use of the excellent Oncode protein facility […] The dedication and technical knowledge of the protein production team is impressive, which resulted in successful projects. We look forward to maintaining our productive collaboration."

Monique den Boer (PMC): "We are very pleased with the cooperative mindset of the Single Cell Sequencing facility of the Van Oudenaarden lab. Their input in our experimental design and the received dataset are both of high quality and the facility is also very accessible for any question related to the next steps in data analysis. This facility is a showcase of how to open up specific, highly innovative technologies for a broader community."
The Oncode single-cell (epi)genome sequencing facility: The Oncode 'Single-Cell Core' became operational in 2019 with the goal of setting up a facility for DNA analysis at the level of individual cells, both for genomic DNA sequencing as well as epigenetic measurements. The facility is now fully operational, and a masterclass was organized in early 2021. During 2021, the facility processed 242 samples from 23 different research groups from 10 different institutes from 4 different countries. In total, 11 different Oncode research groups made use of the facility in 2021.
 
Oncode Therapeutic Antibody Facility:  As part of the I&T programme, Oncode initiated a collaborative project together with OI Linde Meyaard (UMCU) and Jeanette Leusen (head of the Utrecht Monoclonal antibody Facility (UMab)) with the goal of offering OIs the opportunity to produce high quality antibodies (targeted against membrane proteins). Within the Therapeutic Antibody Facility, technical experts work closely with researchers to develop new monoclonal antibodies potentially suited for clinical applications. The facility employs a new, unique, and very efficient cellular immunization method in mice, through which antibodies can be raised against (for example) low immunogenic membrane proteins. In addition, this facility can make antibodies against conformational epitopes and generate agonistic and antagonistic antibodies. Since the inception of the Oncode programme in 2020, 6 project proposals from Oncode have been submitted for antibody generation. Of these, two projects have been granted and are currently under development. Two additional projects are funded through either the TechDev or external funds.
 
UFO Biosciences: This new Oncode facility, launched in 2021, offers services to microscopically screen cell populations and identify cells of interest based on imageable phenotypes, with the aim of isolating and profiling cells of interest. Using functional single-cell sequencing (FUNseq) technology originating from the Chien lab (Erasmus MC), the UFO Bioscience facility helps researchers target cells that are of interest based on (a combination of) their dynamic behaviour, molecular identity, or imageable characteristics. While the I&T programme did not provide funds for UFO Biosciences, Oncode enabled its establishment through multiple channels. The Oncode business development team, together with the Erasmus MC Technology Transfer Office (TTO), helped OI Miao-Ping Chien to develop a strategy for offering the technologies she developed in her lab as a service. Additionally, through Oncode's TechDev fund (see section 3.3.1) the technology was further developed to be more broadly applicable. With funding from the Josephine Nefkens Stichting, the facility became operational in 2021. Oncode and Erasmus MC provide UFO Biosciences with access to a broad network of potential future customers, investors, and strategic partners. UFO Biosciences closely collaborates with the Oncode Single-Cell Core facility and the Oncode spin-off company Single Cell Discoveries.
Miao-Ping Chien (Erasmus MC): "Oncode has successfully assisted me in setting up the UFO Biosciences facility, aiming to offer our single-cell screening and FUNseq technology to researchers and clinicians at Erasmus MC and the Oncode community. With this, we were able to connect with and help more researchers and clinicians. Currently, we are evaluating the spinoff opportunity based on our patented technology."
Technology Access 101: Oncode initiated the Technology Access (TA) programme in 2021, which aims to provide the Oncode community with access to emerging technologies that are potentially of high value to Oncode research. The programme supports initial assessment and validation will determine the potential value of the technology for the Oncode community. The programme supports initial assessment and validation will determine the potential value of the technology for the Oncode community. For those technologies considered sufficiently impactful for the Oncode community, Oncode will either include them in its I&T programme or support the securing of external funds.

A pilot version was initiated in 2021 to test the potential of this programme. A Technology Access Board (TAB) comprising 7 OIs, assessed 14 proposed technologies that could be suitable for consideration in the pilot. Three technologies were selected to receive funding in 2022 and will be tested in at least 3 different labs per technology to ensure usability. These three technologies are:
• Spatial Transcriptomics (lead OI: Jarno Drost, PMC)
• The Phenocycler (co-detection by indexing) imaging machine (lead OI: Anne Rios, PMC)
• CITE-seq (lead OI: Jop Kind, Hubrecht)